How to do beard shaping is one of the most common questions today. It really doesn't fact whether your beard is long, short or curly, every style needs to be cleaned and neat. Your beard can be your identity as it will show your personality. It could be man's best achievement with a perfect, stylish and classy look . But this look will not be your so easily. For getting this look you have to show some awareness, hard work and craftsmanship.
Now you may how you can shape your beard. On the basis of my research here I tried to give you some simple steps. You just need to do one thing is just follow the steps very carefully and of course sincerely.
Firstly know your specific face shape:
To do a perfect shape first you need a specific style for you and without knowing about your face shape you can't choose a style. If you do so you may get a wrong look. Different face shape recommends you different beard style. Like round face will recommend you goatee, chin strap or soul patch in this way oblong face, rectangular face, inverted triangle face, triangle face, diamond face, or square face all will recommend you different beard style. Visit Beard Grooming tips for know more about it.
Secondly, decide a specific beard style for you:
Now you know about your face shape it's time to select a specific beard style according to your face. There you find many beard style some are long beard style, some are short beard style and some are also stubble beard style. You can briefly know if you visit Famous Style of Beard section.
Thirdly know about your jawline:
Know about your jawline is another important think. If you do not define your neckline your beard will grow naturally with scruffy way. It will look unkempt and messed up. So you need to know them. You can know about jawline by,
Step 1: Think out a curved line from one side ear to opposite side ear.
Step 2: Now extend a line from the back of the sideburns and connect to ear to ear line. (from step 1)
Step 3: In this step 3 you just need to interconnect your step 1 and step 2 lines with round shape.
Step 4: Finally by doing this all you can assume your jawline.
Fourthly arrange all the tools:
Though it is not sound very much strongly but still it is one of the most important parts for shaping your beard. Without preparing your tools you can not start shaping your beard. In the market, you will find different beard grooming tools. Like beard trimmer, Beard clippers, scissors, razor, beard comb, beard brush etc.. Very interestingly now you can find many beard shaping tools and templates which will make your work easy. For know the best review of this products and tools you can visit How to Choose section.
Finally start your shaping: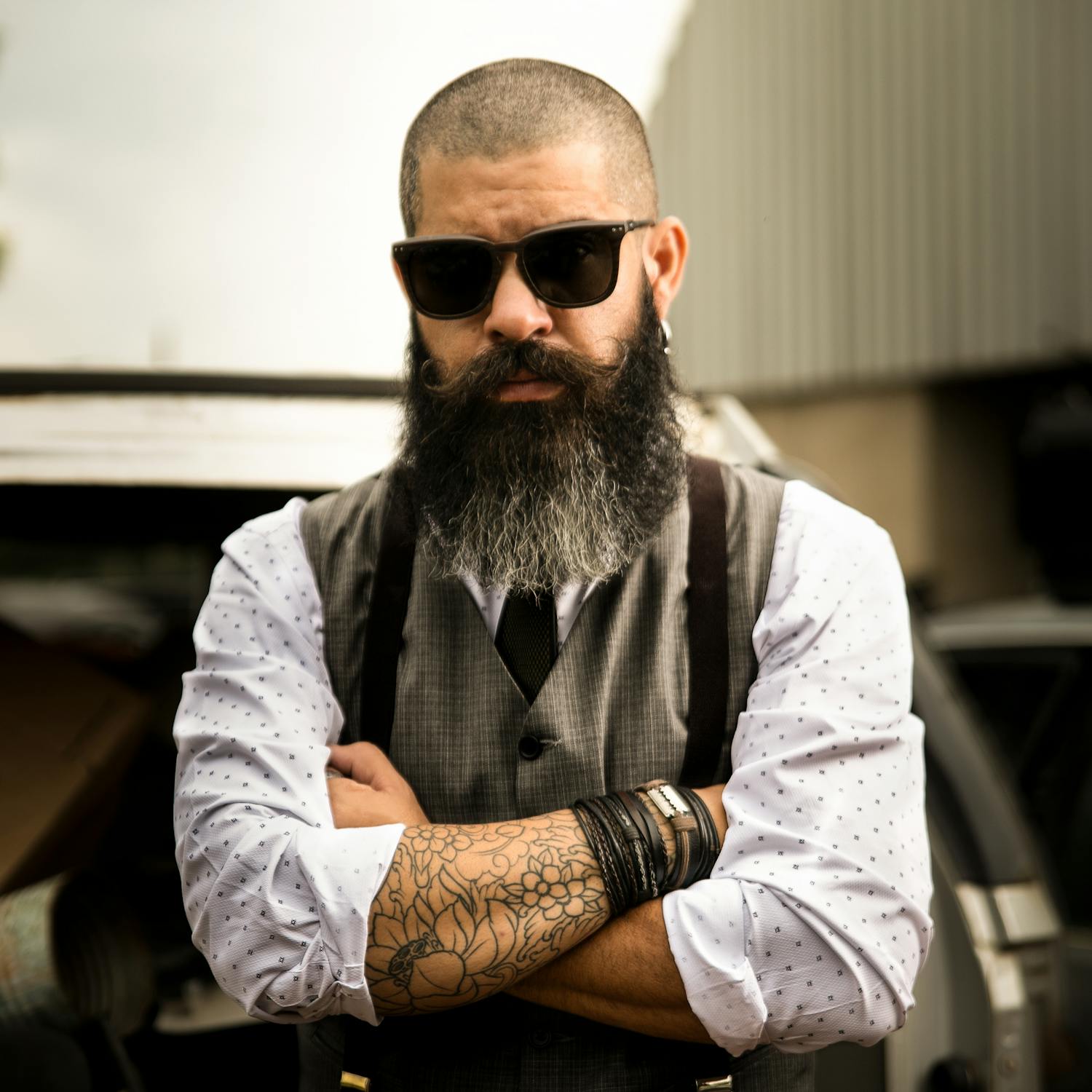 Finally, now it's time to start shaping your beard. As there are different types of beard style here I tried to brief you them all in part by part,
First, if you want to shape your long beard:
Keeping long beard is one the most famous style. Most of the man believes that it will show your masculinity and manliness. So here I give you the step by step instruction of shaping long beard.
The most important part is when you keep long beard there is no necessity of trimming your beard. So don't be so hurry to trim your beard anyway. What you need is that just try to keep them nice and symmetrical. For this, you can follow this thing,
If you really need a perfect long beard first thing you have to do is that you have to choose right tools for you. That means all you need is that a quality full electric trimmer, a fine toothed beard comb and of course a sharp-bladed scissors.
EKeep your beard dries when you start shaping. It will help for perfect shaping.
Thirdly comb your beard and notice whether you see any uneven portion if yes then trim them and keep them in a nice way. In some case, you can find hair which is stick out like a sore thumb in this case you can use scissors.
There you found many long beard style like the Amish beard style, ducktail beard style, old dutch beard style, french fork beard style etc. they all are different from each other. Though the difference is very low. Some of them you need to trim only sides some you have to keep long in the middle part so on. So comb and cut them in such way.
Now clean the neck and chin portion to look better.
Finally use good bear oil, lotion and balm for keep them soft and healthy.
Secondly, if you want to shape your long beard into short beard:
Shaping a long beard into a short beard is quite easy. For that, you can use adjustable length trimmer for your proper beard length. Here I giving you the steps,
Begin start with a clean dry beard and brush it down the way it develops.
You might need to utilize your stylist scissors to clip down any wild hairs that won't rests.
Set your trimmer at the longest length that will really trim and you can abbreviate the length in a brief moment pass if important.
Utilizing the edge of your trimmer, make an imprint where you need the sides of the beard to develop and after that do likewise under your jaw so you have an imprint isolating the end of the beards from what you need to be perfect shaven.
Turn the trimmer to lower setting and utilize it to abbreviate the stubbles around the beards range that you will, in the long run, shave skin close. Begin at one side attempting to the middle, then do the other side and after that the neck territory.
Presently set the trimmer back to the trim length that you need your beards and going inverse of the way it develops, run the trimmer through your complete facial hair.
Brush it again ensuring it is even and you didn't miss any sides
Thirdly if you want to shape a stubble beard:
To keep stubble beard is another famous style in today's days. A stubble beard is the actually same as its name. So here I am giving you the process which will help you to shape stubble beard,
First begin by trimming your beard to the fancied length, for this situation it should be 0.5.
Then shape it around your upper lip down to the edge of your lips utilizing an itemizing scissors or clippers. Place a line from above your Adam's Apple and take after that to every edge of your neck by creating the semi-circle. This will fix up as your head does. Proceed with the clippers, put a line simply under the ear at the point where your sideburns meet your cheeks at a somewhat balance plot for the faded point.
Next, push your clippers to level up from 0 lengths and begin by blinking the clippers off the line you made close to your ears at the base of the sideburns part, then marginally drop down, move the lever to between the 0 and 0.5 and flick off by then. This will begin the fading procedure. Do a reversal to your detailers and from the line work with the facial hair development into the beards generally a large portion that comes from the line downwards. In this way, you can get a stubble beard look.
After all, this successfully done you can use shaving oil and also sharply blended razor for getting a perfect sharp line.
Finally give them all a finishing touch:
When you have the genuine facial hair itself trimmed, you are going to need to tidy up the encompassing stubble and also edge your beard to give it a more expert look. To achieve this, utilizing a razor and a touch of shaving gel or cream for best works. On the other hand, if your beard is trimmed, then you are going to shave whatever is left of your face with a razor and blueprint your beard. To fulfill this, begin with a warm sodden towel and place it all over for a few seconds or a moment or two. Here I give you some tips for your help,
To make your beard relaxed and easier to cut you can apply a damp wet warm towel in your face.
You can also use shaving gel to area where you like to shave
Use safety razor for better use which will help you to shape your stubble beard look.
Use shaving lotion beard oil and cream for softening your beard.
Enjoy your style:
So here all I tried to give you all about the shape your beard tips. Now your work follows them. Just love your beard, style and also can make a routine and get your desired look.